y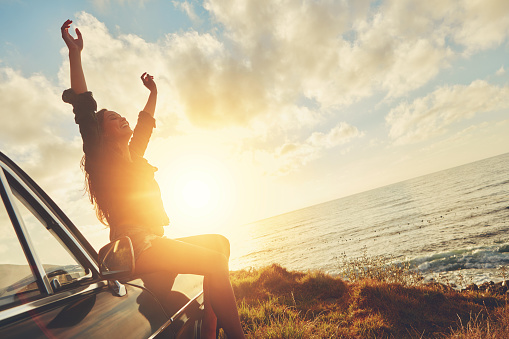 Close your eyes and try hard to imagine what you were doing one year ago today.  I know it can be hard when a monumental thing may have not occurred at this time 365 days ago, but for me it did.
One year ago, I had just quit dream job, something that I had literally worked my whole life for.  Being a publicist for a national company, writing recognized magazine articles, public speaking, social media marketing, making great money,  it was everything I hoped I would become.  In that moment in time, I was living my life purpose…so I thought.
If it was so great then why would I quit this so called "dream" job you ask.  An office with a view came with a price.  A title with a grand business card was slowly stealing my soul as I reported each and every day to a boss that chose to belittle me yet praise me.  One who knew no boundaries and promised to equip me with fear yet accolades.  I just never knew which antidote I was going to receive.  He yelled, found joy in me, belittled, laughed, changed his mind, then back again, and finally pushed me too far.  For I had made a promise I was destined to keep, that I would never let a job ruin me again.
Two years prior that very occurrence came to pass.  I was loyal, obedient, and taken advantage of.  I had many chances to stand up for myself, yet, I stayed quiet and allowed the lashings to keep on coming.  My health deteriorated, my mind was dizzy with anxiety, and my self-worth demolished.  All because of a jealous and horrible boss who had it out for me in the worst of ways.  I took the bait and became her scapegoat.  Eventually, to save myself, and my family, I walked away.  I left.  Exited the building with my head held high in pursuit of my greatest dream, to become a published author.
I accomplished this goal, but my head wasn't as upright as I wanted people to think.  I was beaten down, and the worst possible thing I could have done,  I isolated myself.  I wrote constantly, marketed my name, my purpose, sleeping little, and drinking a lot.  I mean a lot.  I clung to a numbing mechanism that took what I thought to be my demise away.  Got drunk on the good life, while the past slowly ate away at my bones making me weaker every second I continued such a life.
I ended up at Rogers Memorial Hospital because I chose to.  Dual diagnosis.  Depression and alcohol abuse.  Now that's a tough card to read for a perfectionistic person who really wants the people around her to think she's super great.  Humbled, I spent seven days detoxing, in counseling and meeting some amazing people who years earlier I would have dubbed as "losers."  Titles cause pain because the back story isn't taken into account, the seeming drug addict who is unable of quitting has a story.  I had a story.  They all had a story.  And in that our tales mingled in the midst of all the demons we were fighting.
After finding my way out of the darkest hole of my life the light started to shine again.  I published my first book February 20, 2015.  A romance novel about overcoming the most impossible of odds to find a destiny in the midsts of pain.  Sunset Vibrations, my first go at fiction was a great success, and I hadn't touched a drink in months.  I was finding my way back, forward, and all around the turmoil,  my life had brought me thus far.  After the painful burial of my infant babies, childhood trauma, poor adult choices, I was finally choosing to cocoon myself in a wonderful sense of peace.
Four months later I published a little memoir titled, The Return to Happiness.  Accounting my experience of losing two infant baby boys within the span of eighteen months.  I never held back, shared my soul, my despair, flooded a bucket of my tears, yet eventual hope.  After I hit the icon on Amazon, iBooks, and Barnes and Nobel that says "publish" I ran into my bedroom and hid under my covers.  Terrified of all I had bleed over the pages of my book I was afraid that the people of this world who saw my big smile, and wonderful children, and husband…what would they think when they found out the truth?  That I sucked at turmoil, and I gave into methods to numb myself ; what would the world think of this imperfect girl?  An agonizing hour later my husband pulled the covers off telling me I had to come downstairs right now!
Looking at the sales analysis as an author and seeing you are in the top 100 best sellers list is a moment we all dream of.  The Return to Happiness was sitting at number sixty nine and I dropped to my knees and sobbed.  Joy, pain, exhilaration and pure gratitude flowed through each and every tear that hit the floor.  I was a best-selling author because I dared to share my darkest voyage through grief.  I had made my greatest dream come true in the midsts of vulnerability and courage of my deepest weakness and pain through loss.
Slowly, I was finding my way back to the top of the water not drowning underneath it.  In my youth, I had a fervor for God that could shake the mountains.  I praised Him wherever I went, loving and breathing the breath of salvation with every passing air.  Yet, I turned away in my mid-twenties.  That is for another blog, but indeed I said goodbye to God, I'd figure it out on my own.  I'm good.
One year ago today I took my turn at reconciling the black color of the past decade plus five of my life.  After leaving the dream job of my life I told my husband, "this time we are doing it right.  I'm not isolating myself.  I'm not drinking myself into a stupor.  We are going to church with the boys.  We are going to make this work."
My older sons were deeply embedded in Journey Church near our home and I felt the calling to attend after not being part of a church since I was twenty-three.  
It was a Saturday night, much like tonight.  We sat towards the back and the message was about "The Prodigal Son", a child who had left and returned after so much time and pain.   At the end, I told my husband that I need a minute.
Standing on weak legs, I found my way to the stage…alone.  
My head bowed.  I pleaded, "God, I'm back.  I want you.  All of you.  Take me back."
I exhaled pain, regret, sin, anguish, and then inhaled…love.
Forgiveness.
Acceptance.
A home.
That was me one year ago tonight.  365 days have passed and my world has exploded in a way I could have ever imagined.  I have matured as a wife, mother, friend, author, and woman more than I knew possible.  God instantly healed me from one of my biggest nemesis'…anger.  The rage inside me dissipated that night I stood at the altar of my church.
I've given up vices that I thought I needed to get me through.
God has given me a renewed relationship with my mother.  Also, I've been able to forgive my father which I never saw possible.
The beautiful love of a couple who were called to take me into their hearts and lives acting as a surrogate mother and father came to me almost instantly after prayer for such.  Grandparents for my kids, unity for my family.
I've been called into a job where I serve people with debilitating pain on a daily basis and have the opportunity to bring a smile to their faces.
One year ago I came home.  After loss of a career that I thought was my everything.  But was my everything.  Because if I hadn't left I may have not found my greater purpose, my chance at rebirth, growth and righting all the wrong that I had done and that was done to me.
God has a way of doing that.  He takes us in, no matter how far we've traveled away, or what may transpire in our beautiful and angry minds.  One year ago, my life changed.  My struggle continues deep into the night, to not rely on things that promise me hope yet bring me darkness.  I'm still drawn to the mystery of wanting to take control, take the wheel.  The thick liquid that numbs it all still calls my name and at times I answer it knowing of its false healing powers.  Yet, the grace that grabs my hand over and over again tells me that no matter how much I fail…no matter how much I succeed…that  I am His.  And He is Mine.
 I am running fast forward toward all the purpose He has.   For me tomorrow and all the healing He will do for my yesterday.  The all of me that He is healing and creating because of the all of me that was, and is to come.